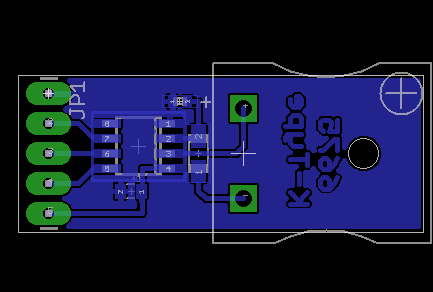 In order to improve and verify the performance of my Reprap Mendel extruder I decided to build a system based on a K-Type thermocouple. I ordered some samples of a MAX6675 from Maxim Integrated Products. I decided to use this chip over the Analog Devices AD595 out of curiosity as it was new to me and due to the 12-bit digital output. Although plenty of breakout boards already exist for this product I decided to design my own based around this PCB-mount thermocouple connector. I like the idea of being able to simply unplug a thermocouple and quickly plug another one in so the use of a standard miniature socket sounds like a pretty good idea to me. It makes switching between probes a breeze and allows me to use cheap thermocouple probes from Maplin
I haven't tested this board yet so I'll have to update the post later after I've had a chance to play with some ferric chloride.
Having stood back from the design for about 3 seconds it occurs to me that I should probably combine this with my ATTINY45 USB Key project to make a standalone Thermocouple to USB converter, but who has the time 🙂 .
All files are Creative Commons Attribution-Share Alike 2.0
TC-6675, Schematic (PDF)
Eagle Library (MAX6675ISA+ and RS#3817564)
TC-6675 Schematic (EAGLE)
TC-6675 PCB layout (EAGLE)