You've probably all noticed by now that Ponoko are now offering fabrication facilities in the UK via RazorLAB. I thought I'd post to show off my new laser etched bed for my Reprap Mendel. I could have cut this one by hand, but I got it lasercut and etched for reasons of curiosity.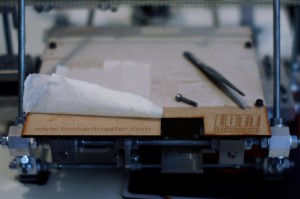 I have to say that the service and turnaround from Ponoko and RazorLAB was great. Ponoko only promises a 28 day turnaround for non Prime members. My order was shipped in 3 days! Fantastic! The bed looks great and I'm happy with the results. For reference, the material used is 3.6mm 'Natural MDF' , and the text and logo are done in 'Medium Raster'. All files were prepared using Inkscape.
Although I think the bed is a little on the thin side for a perfect print surface, it is a lot flatter than the curved 4.8mm aluminium bed I have been using up until now.