I recently decided to treat myself and get an oscilloscope. After much consideration I decided to go with an entry level Rigol. I liked the large number of positive reviews I was reading for these scopes all over the net (two examples here and here). After patiently waiting, unpacking and having a good play I can honestly say I'm impressed.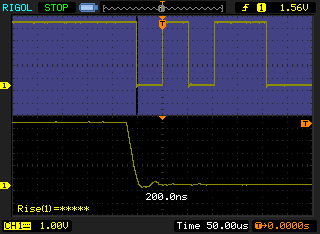 Figure 1 above shows serial communications on my Reprap Mendel. This has been my test signal as I put the scope through its paces while I try to locate the source of intermittent serial communications problems. Having bitmap output makes blogging about electronics a whole lot easier.
After having a few weeks play I have to say I'm a fan of the interface. I was pleasantly surprised by the center push feature on all the dials. A center push on the vertical position will center the trace about the zero point and a center push on the horizontal will center the trace about the trigger point. These are very nice interface enhancements that feel very natural and intuitive to use.
The performance of the scope is great although I have not pushed it anywhere near the limits.
To give you a better idea of what I am comparing this to I've compiled a list scopes I've used in the passed. These are scopes I've used in the workplace, spending countless days interacting with.
Tektronics 475 200Mhz – A fantastic old analogue storage scope
Tektronics TDS 320 100Mhz – A nice digital storage scope (not LCD though), with the printer, GPIB and serial communication cards.
Tektronics TDS 1002 60Mhz – An entry level, modern LCD scope but no printing or serial communication.
Tektronics TDS 3000 series – DPO very nice colour LCD scope with floppy drive for saving waveforms to.
This is the first scope I've used which I've actually forked out the cash for so I am very happy with my purchase and find it compares very favourably to those I've used in the past. This scope has more features than I've ever had before. The datasheet for the DS1000E Series is here.
I like the modern features (USB host, USB remote, Colour LCD, FFT, Pass Fail, 1M samples, etc)
I like the legacy features (RS232 port on the back)
I like the specs (100MHz, 1GS/s)
I like the warranty (3 years parts and labour)
I REALLY Like the price. This scope cost me £420 including VAT, delivered to my door.
I'd like to post a more complete review sometime, but I think there are already plenty of people saying the same as what I'm saying — A fantastic scope, unbeatable for the price.